Atiqausit (nouns) are words that are used to name people, places and things. A noun stem in Inuktut can appear with or without grammatical endings. Here are some examples:
noun roots
nouns with affixes and endings
iqaluk
fish
iqalungmik
a fish
nuna
land
nunavut
our land
kiinaujat
money
kiinaujaqaqtugut
We have money.
pualuuk
(two) mitts
pualuukkak
my two mitts
Piita
Peter
Piitakkunni
at Peter's house
Qurluqtuq
Kugluktuk
Qurluqturmittauq
in Kugluktuk as well
Singular, Dual and Plural
Most nouns have a singular (1), dual (2) and plural (3+) form.
| SAMPLE | Singular | Dual (2) | Plural (3+) |
| --- | --- | --- | --- |
| woman | arnaq | arnaak | arnait |
| person | inuk | inuuk | inuit |
| man | angut | angutiik | angutit |
Nouns in the dual always end in –k and nouns in the plural always end in –t. The dual usually involves lengthening the last vowel of the stem where possible. The plural ending may be -it or just -t depending on the noun.

1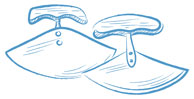 2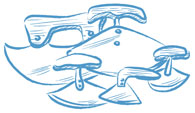 3+
| ulu | uluuk | ulut |
| --- | --- | --- |
| nuvuja | nuvujaak | nuvujat |
| qajaq | qajaak | qajat |
| aasivak | aasivaak | aasivat |
| iji | ijiik | ijit |
| aiviq | aiviik | aivit |
| ivik | iviik | ivit |
| tuktu | tuktuuk | tuktut |
| kanguq | kanguuk | kangut |
| iqaluk | iqaluuk | iqaluitt |
| kigut | kigutiik | kigutit |
| umiaq | umiak | umiat |
| igluralaaq | igluralaak | igluralaat |
| puuq | puuk | puut |